What are Beautifications?
Hey there, Detectives! Get ready to transform Orchid Island into a gorgeous natural landscape with Beautifications!
Beautifications are exquisite and exclusive decorations, earned through Memoirs or other events, that bring out and enhance Orchid Island's natural splendor.

What are the differences between Beautifications and regular decorations?
Beautifications are complementary to regular decorations, in that they offer a whole new and exciting way to individualize and beautify your island, turning it into the perfect vacation getaway.

Unlike regular decorations, Beautifications can only be found on Orchid Island, and each Beautification has a specific zone around the island where it can be placed. It's also worth noting that Beautifications don't contribute to your Flower level.

How can I get the Coral Reef Beautification?
We hope you like snorkeling, because we have a wonderful gift for you, Detective! Once you reach the point where you can earn a Beautification in the game, Mrs. Talbot will be kind enough to give you a quick introduction.
After this introduction you automatically acquire the Coral Reef Beautification, a little gift to get you started!
How can I earn Beautifications in Memoirs?
Each Memoirs album offers two different and unique Beautifications as rewards. The first Beautification can be earned by placing a certain number of unique snippets in the album's pictures, while the second is awarded upon album completion.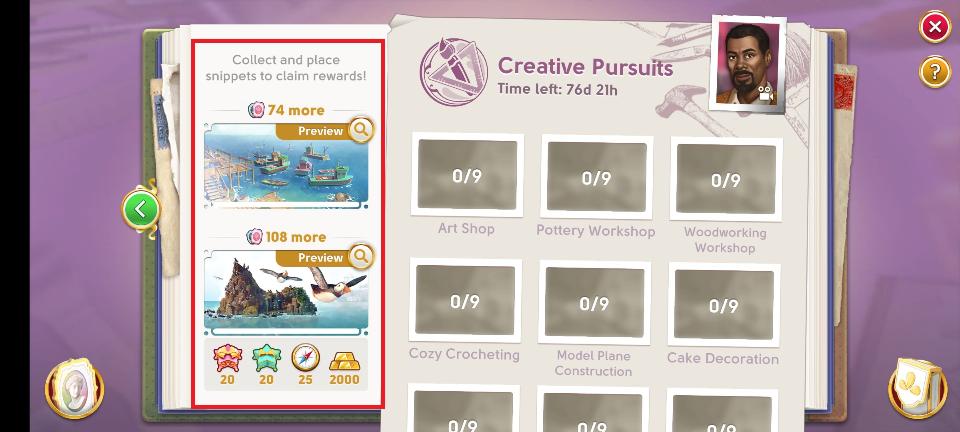 You can check the album screen of your current Memoirs album to see what Beautifications you can earn, how many more snippets you need to earn them, and to get a preview of how awesome they'll look on your island!
How do I switch between the Beautifications I own?

Can't decide which brilliant Beautification you want to place on your island? No need to worry, Detective, you can always switch between them.

Once you own at least one Beautification for a specific zone, you can simply tap on that area to place a Beautification. This will open a sidebar that shows all Beautifications you own (or currently can earn) for the selected area.

You can also cycle between zones by tapping the green arrow on top of the sidebar. This gives you an easier way to check all zones for available Beautifications!

How can I place a Beautification on my island?
Making Orchid Island even more beautiful has never been so easy! To place a Beautification, simply tap on a zone that you've already earned a Beautification for.

From here, a sidebar will display available Beautifications you can place. Tap on the desired Beautification, then once again on 'Place', and you're all set!

How can I remove a Beautification from my island?

Perhaps you prefer the natural look of Orchid Island? That's no problem at all! All you need to do is tap on the Beautification you want to remove.
From here, scroll through the sidebar on the left until you come across an option marked as 'Empty'. It should be the first option you see. Tap 'Empty' on the sidebar and then on 'Place' to confirm your decision. You can always place the Beautifications again so feel free to experiment!
How can I preview Beautifications?

Do you want a sneak peek at how gorgeous certain Beautifications will look on your island? Say no more. There are two ways you can preview Beautifications.

First, in a feature where you can earn a Beautification, you may be able to get a sneak peek at that Beautification. For example, on the album screen of a currently active Memoirs album, you can preview the Beautification rewards you haven't earned yet by tapping on the Preview button.
This will bring up the preview window showing the Beautification in the zone where it can be placed once earned.
Alternatively, you can tap on a zone where a Beautification can be earned and then on the Preview button. Note: You must already own at least one Beautification on said zone for this option to be available. You will then be able to see how amazing the Beautification looks in that zone!
If you really like what you see, you can tap on the Earn button which will take you to the place where you can earn the Beautification, like the album screen of Memoirs, for example. From there you can see how close you are to earning that Beautification and making it your very own!
While it's nice to admire beautiful previews, these Beautifications won't stay on your island permanently unless you earn them, Detective. So be sure to participate in various events to turn Orchid Island into your little slice of paradise!